Welcome to League of Oregon Charter Schools (LOCS) 
Where all Charter Schools look different but we all have the same goal in Educational Excellence!
---
2015 Oregon Charter School Conference
Save the Date!!!
August 13-14th, 2015
Registration information coming soon!
---
New bills that effect charter schools.  CLICK on the legislative link under Resources.  (or click here Legislation)
As information becomes available... we will post it here.
---
The LOCS next board meeting May 15,  at 1:30pm 
Eagle Charter School 
999 NE Locust Street, Salem Oregon
Board room in Clatterbuck Building.
Everyone is welcome to attend.
---
---
A Possible Education Agenda for Oregon
By Don Crawford, Ph.D.
Governor Kitzhaber's takeover of education in Oregon will cost hundreds of millions of dollars without making it better.  Four simple initiatives could do far more to improve education while saving money for taxpayers. Sounds implausible, I know, but it isn't more money that's needed to improve K-12 education in Oregon.   Read More
ESEA Flexibility
Five Key Areas of Effectiveness Defined
Effective schools and districts perform well in each of five key areas, which closely align to the
USED seven turnaround principles. Oregon's definitions of the five key areas, and
corresponding turnaround principles, are provided below. Oregon educators consider it
important that turnaround principle five (v) – using data to inform instruction and for continuous
improvement, including providing time for collaboration on the use of data – be woven
throughout all of the five key areas. Therefore, this turnaround principle is not listed separately.
JAN14_key-areas-of-effectiveness.pdf
 States approved for ESEA flexibility

 States with ESEA flexibility requests under review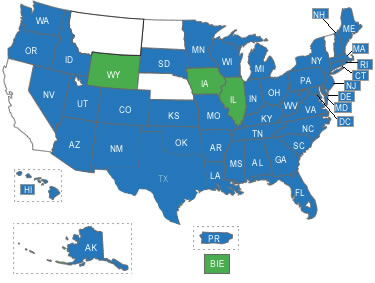 KNOW YOUR LEGISLATOR!
As a charter school it is VERY necessary to know personally who represents your district.  We encourage you all to invite them to your school for lunch and a tour. 
Website to find your legislator: