WELCOME TO LOCS!
---
Welcome to League of Oregon Charter Schools (LOCS) 
Where all Charter Schools look different but we all have the same goal in Educational Excellence!
---
 The League of Oregon Charter Schools (LOCS) is a member based and movement focused organization with complimentary missions of providing member support services while leading the quality growth of the state's charter movement.
---
Why should a school join LOCS?
Membershiip in LOCS is an important investment in your charter school, the charter movement, and choice in quality public education in Oregon.
---
LOCS serves as:
a clearinghouse for information and resources that charter school groups can draw upon;
a technical support group, providing mentorship aid and assistance in locaing resources and services; and
an advocate for the overall charter schools movement - whether through contact with the media, maintaining a presence in the political realm, or improving community exposure; we serve the needs of charter schools in areas where their intersts are best served by collective action.
The LOCS Board has been actively engaged in identifying and planning how LOCS can increase capacity to better serve, support, and engage Oregon charter schools.
---
---


The LOCS next board meeting

see below

at 1:30 pm.
3rd Friday of each month at 1:30 pm
tba
Board room in Clatterbuck Building.
Everyone is welcome to attend. 
Future Meetings:
tba
---
 IRN
 IRN Offering School and office Furniture at No Cost for Non-Profit Groups, Charter, non-profit religious and Tribal Schools, Charity ReSale Shops
Each Shipment Valued at more than $50,000
Concord, NH - May 26, 2016
Project Date: Now through October 2016 – Washington State
Jennifer Bratton-Boulanger 
310-415-2595 ~jboulanger@ir-network.com
A large corporation is decommissioning this Spring through Fall with a large amount of classroom, teacher and administration furniture available to non-profit groups and schools as a donation.  The donor is committed to the environmentally sustainable option of reuse versus disposal and has partnered with IRN to help the betterment of schools that are in need of these furnishings. 
This is an opportunity for charter, religious and Indian tribal schools to obtain good quality classroom furniture at no cost other than transportation expense. Each donation is loaded onto 53' Tractor trailer truck with an even mixed assortment of the inventory divided amongst all the Charter and Tribal school recipient, giving everyone an even assortment. Each shipment will consist of approximately 250-330 items, Desks, tables, seating, storage, lounge and break room furniture. 
Schools who participate in this reuse program can save tens or even hundreds of thousands of dollars by reusing versus buying new.
 The process is simple.  We provide the inventory photos and amounts available and schools and non-profit groups (community centers, adult educational programs, teen vocational training) who are interested in receiving furniture contact IRN.  IRN matches the available inventory with the needs and arranges shipping.  IRN Project Managers are on site during the project to ensure that required inventory is loaded and that only usable items are sent.
IRN has hundreds of success stories and dozens of case studies from public, charter, and tribal schools throughout the US who chose the reuse option for furnishing their classrooms (available at www.IRNSurplus.Com ) .  The money saved has been used to hire teachers, upgrade the school's technology infrastructure, and develop new educational programs.
Organizations interested in the IRN Reuse Program can complete a web-form "wish-list" at www.IRNSurplus.Com or contact Jennifer Bratton-Boulanger at 310-415-2595, jboulanger@ir-network.com
About IRN
IRN's corporate mission is to keep usable surplus furniture and equipment out of American landfills, by matching them with nonprofit organizations to be reused where they are desperately needed for disaster and poverty relief, in the U.S. and around the world.  Working nationwide with colleges and universities, independent and public schools, hospitals, and corporations, IRN is the largest and most respected provider of this service in the United States.  Since 2002, IRN has placed more than 70 million pounds of usable surplus for reuse by over 150 nonprofit organizations in the United States and in more than 50 countries in the Americas, Europe, Africa, and Asia, helping to improve the lives of hundreds of thousands of children and families across the globe.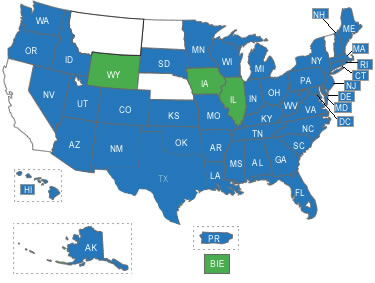 KNOW YOUR LEGISLATOR!
As a charter school it is VERY necessary to know personally who represents your district.  We encourage you all to invite them to your school for lunch and a tour. 
Website to find your legislator: