Welcome to League of Oregon Charter Schools (LOCS) 
Where all Charter Schools look different but we all have the same goal in Educational Excellence!
Oregon Charter Schools Annual Conference
August 13th & August 14th
Conference Location:
Eagle Charter School  999A NE Locust street, Salem, 97301
CLICK the EVENTS/Annual Conference tab above! 
We will be located on the beautiful campus of Eagle Charter and Jane Goodall Environmental Charter Schools Campus in Salem, Oregon.
Only $50. per person and $35.00 for a group of five each day, you will have two full days of trainings plus breakfast and lunch!
August 13th will focus on subjects for the administration and school board members.
August 14th will focus on subjects for Teachers and parents.
Schedules have been recently updated.  07/30/2014
Thank you to our 2014 Conference Sponsors!
Eagle Charter School - Event Location
Fresh N Local Foods - August 13th Lunch Sponsor
Grey Wolf Technologies - Conference Tech Support
ClassroomSmart - Breakfast Sponsor




Scholastic Book Fairs: Sponsoring Key Note Speaker:
Nancy Baumann is a nonfiction author and publisher, writing coach, public speaker, book coach and editor whose mission in life is to change the world, one reader at a time. She has been an elementary and middle school teacher and librarian, and has also worked in the University of Missouri's School of Information Sciences and Learning Technologies. She served on the 2010 John Newbery Committee and received the School Library Journal Giant Step Award for her exemplary work as an elementary school librarian. 

In her book, For the Love of Reading: Guide to K–8 Reading Promotions, Nancy provides strategies and tips for setting up successful reading environments for children, including having a well-stocked library collection; engaging students through book clubs, reading lists, and prepared book talks; and involving student and adult volunteers. 

---
The LOCS next board meeting TBD,  at 1:30pm 
Eagle Charter School 
999 NE Locust Street, Salem Oregon
Board room in Clatterbuck Building.
Everyone is welcome to attend.
---
UPDATES on Charter News:
Welcome NEW Charter Schools in Oregon!
Crater lake Charter Academy
Kairos PDX
---
Congratulations goes to Self Enhancement Inc. Academy (SEI) for National Recognition as a Title 1 Distinguished School in the area of closing the achievement gap.  We are all so proud of your work!
---
ESEA Flexibility
Five Key Areas of Effectiveness Defined
Effective schools and districts perform well in each of five key areas, which closely align to the
USED seven turnaround principles. Oregon's definitions of the five key areas, and
corresponding turnaround principles, are provided below. Oregon educators consider it
important that turnaround principle five (v) – using data to inform instruction and for continuous
improvement, including providing time for collaboration on the use of data – be woven
throughout all of the five key areas. Therefore, this turnaround principle is not listed separately.
JAN14_key-areas-of-effectiveness.pdf
 States approved for ESEA flexibility

 States with ESEA flexibility requests under review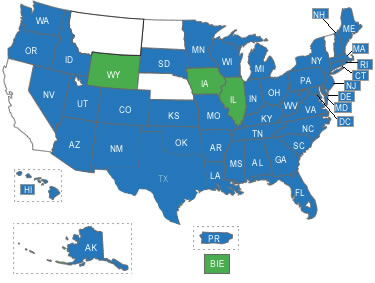 KNOW YOUR LEGISLATOR!
As a charter school it is VERY necessary to know personally who represents your district.  We encourage you all to invite them to your school for lunch and a tour. 
Website to find your legislator: