Welcome to League of Oregon Charter Schools (LOCS) 
Where all Charter Schools look different but we all have the same goal in Educational Excellence!
---
IMPORTANT!... could effect your school!!
If this will hurt your school, be sure you make your concerns heard!!
Contact: PATTISON Kate <Kate.Pattison@ode.state.or.us>
NOTICE OF ADMINISTRATIVE RULES 

HEARINGS

 FOR PROPOSED ADOPTION BY THE STATE BOARD OF EDUCATION
.
Hearings to be held at 255 Capitol St NE, Salem, OR: 
December 22, 2014 at 1:00 pm in Room 200A.
Definitions 
Defines instructional time
581-022-0102
Required Instructional Time 
Requires that districts ensure by 2017-18 at least 90% of all students are scheduled to receive the minimum instructional hours.
Increases instructional time for students in K-3.
Improves Oregon's definition of instructional time. Revises what is considered instructional time.
Defines instructional time for purposes of virtual education.
Defines what is considered to be full-day kindergarten.
581-022-1620
School and district options for granting K-12 students credit.
581-022-1131
When an agency proposes to adopt, amend or repeal a rule, it shall give interested persons reasonable opportunity to submit data or views. Comments can be emailed to ODE.RuleTestimony@state.or.us .
Emily Nazarov, State Board of Education Executive Officer, serves as the department's hearing officer. The hearing will be recorded for permanent record. The hearing officer will open the hearing and read the OAR number and its intention or purpose. The hearing officer will ask those in attendance for oral testimony. Those individuals will be heard. If there is written testimony at this time, it will be submitted. 

The hearing officer will adjourn the public hearing and will not respond to questions. After the close of the public comment period, the hearing officer will prepare a report to the state board which will be available from the department.
---
The LOCS next board meeting December 19th,  at 1:30pm 
Eagle Charter School 
999 NE Locust Street, Salem Oregon
Board room in Clatterbuck Building.
Everyone is welcome to attend.
---
---
A Possible Education Agenda for Oregon
By Don Crawford, Ph.D.
Governor Kitzhaber's takeover of education in Oregon will cost hundreds of millions of dollars without making it better.  Four simple initiatives could do far more to improve education while saving money for taxpayers. Sounds implausible, I know, but it isn't more money that's needed to improve K-12 education in Oregon.   Read More
ESEA Flexibility
Five Key Areas of Effectiveness Defined
Effective schools and districts perform well in each of five key areas, which closely align to the
USED seven turnaround principles. Oregon's definitions of the five key areas, and
corresponding turnaround principles, are provided below. Oregon educators consider it
important that turnaround principle five (v) – using data to inform instruction and for continuous
improvement, including providing time for collaboration on the use of data – be woven
throughout all of the five key areas. Therefore, this turnaround principle is not listed separately.
JAN14_key-areas-of-effectiveness.pdf
 States approved for ESEA flexibility

 States with ESEA flexibility requests under review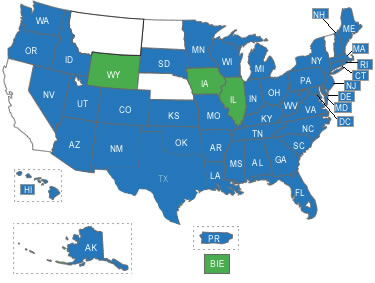 KNOW YOUR LEGISLATOR!
As a charter school it is VERY necessary to know personally who represents your district.  We encourage you all to invite them to your school for lunch and a tour. 
Website to find your legislator: