Welcome to League of Oregon Charter Schools (LOCS) 
Where all Charter Schools look different, as you can see above, but we all have the same goal in Educational Excellence!
---
Check our Resources and Links to the left!
Corbett Charter School Update:
A recent and unexpected decision by the Corbett School District Board terminates the ability of the Charter School to continue to rent their existing space, beginning with the 2014-2015 school year. Corbett is a very small town, so the effect of the Board's decision is that the Charter School Students will not have facilities available to house the Charter School.
Without adequate facilities it is likely that the Charter School will have to close in at the end of the 2013-2014 school year (May 2014). The School Board's decision will have a devastating effect on the 480 students and 18 teachers that are part of the Charter School.

 The decision also leaves 18 excellent teachers a very short timeline to seek other employment.
Charter parents have requested the ability to provide input and possible solutions to the decision, as well as adoption of a timeline that would allow parents to plan for possible outcomes.
 Cannon Beach Charter School Update: 
Several years ago the Seaside School District began to intimate a plan to close our elementary school.  Members of our community formed a "task force" and with the support of the City Council began to work to find a location to move the District elementary school to a new location, out of the tsunami inundation zone.  We found suitable land and helped the City purchase the land.  The plan was to raise the money to build a building for the district to use as a school. 
Last spring the District voted to close the school and ship the kids to Seaside (1 hour bus ride each way).  At that point, the group that had been working to build a school for the district to use changed focus and set about forming a public charter school.
Over a 6 month period we formed an Oregon non profit corporation (The Cannon Beach Academy), and prepared and submitted a comprehensive charter school proposal for the District (available on our website). http://thecannonbeachacademy.com .
---
How can you be informed and actively involved making a difference at the state level?
Know who your district representative is. Invite them to your school.  Go to where they are.  Write letters of support or oppositions when harmful bills are going to the Senate or House side for vote. Be an active part in support or opposition right now.  
www.oregonlegislature.gov
UPDATES on Charter News:
2-4 charter schools are on the horizon to open this coming fall.  
ODE has tentatively marked May 29-30 for a charter school meeting, both new and old, operators and authorizers. A save the date will be forth coming. Watch their website. http://www.ode.state.or.us/search/page/?id=1338
Are you getting the most up-to-date news from the state department?
If not, ask to be on their email list, these communications are fantastic: super@listsmart.osl.state.or.us
The NEXT League Quarterly Meeting for members is
Friday, April 4, 3:30-5:30pm
at Sheridan Japanese Charter School  
430 SW Monroe St., Sheridan, OR 97378, (503) 843-3400
https://maps.google.com/maps?ie=UTF-8&gl=us&hq=sheridan+japanese+charter+school&daddr=430+SW+Monroe+St,+Sheridan,+OR+97378&panel=1&f=d&fb=1&geocode=0,45.097827,-123.399559&cid=5311548926123141058
YOU ARE WELCOME TO JOIN THE LEAGUE AT ANY TIME...  COME TO THE MEETING IN APRIL!
Topics of Discussion

:  
Kathryn Mueller is an expert at student Data.  NWEA representatives will be with her as they demonstrate how and why MAPS is a critical part of student and teacher growth! We all need to be experts at collecting and reading student data for our kids!
Take a tour of Japanese Sheridan Charter School and have open dialog with Board members of LOCS and NWEA representatives discussing your schools needs.
If you have any questions please feel free to contact Jo Ann Lindenthal at 503-405-7868 or email above..
---
Congratulations goes to Self Enhancement Inc. Academy (SEI) for National Recognition as a Title 1 Distinguished School in the area of closing the achievement gap.  We are all so proud of your work!
---
May 2nd, Friday is "Oregon Charter School Day" at the Capital.
We need to show presence at our capital. This day should be set aside to meet your legislators of your district, tour your students through the process of what bills become laws and many more important government related items.  Make an appointment for your students to meet who represents them at the state level. There are museums and state parks to walk to with a sack lunch.  We have 10 tables that can be used by different charter schools to show off their students work (tables in the lobby from 8:00-1:00 pm can be set up for display).  We have reserved two tour groups at the capital. First tour starts at 12:30 pm (3 groups of 25 students which can be different schools) and the second tour at 2:30 pm (3 groups of 25 students which can be different schools).    Maybe your school would like to perform on the Capital Steps, or you have ideas to show a positive presence that day let us know, we want this to be a great experience for everyone. Please sign up for a tour and a table through Debi Lorence: debi@oregonleaguecharters.org 
---
The Oregon Virtual Schools organization is sponsoring
Capital Day in Salem 

February 4th
 to meet with your legislators and advocate for virtual school choice. More information go to:
ESEA Flexibility
Five Key Areas of Effectiveness Defined
Effective schools and districts perform well in each of five key areas, which closely align to the
USED seven turnaround principles. Oregon's definitions of the five key areas, and
corresponding turnaround principles, are provided below. Oregon educators consider it
important that turnaround principle five (v) – using data to inform instruction and for continuous
improvement, including providing time for collaboration on the use of data – be woven
throughout all of the five key areas. Therefore, this turnaround principle is not listed separately.
JAN14_key-areas-of-effectiveness.pdf
 States approved for ESEA flexibility

 States with ESEA flexibility requests under review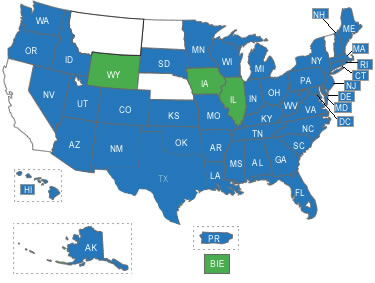 Thank you!
Thank you for attending the quarterly meeting at MLA Public Charter School in January!!  It was wonderful to see leaders from The Arthur Academy's, KNOVA Learning, Metro East Web Academy, Cannon Beach Academy, Oregon Connection Academy, International Elementary School, and ORVA.  
Our goal of these meetings is to provide our members our experience and our knowledge to help Oregon charter schools.  We all have the same struggles... let us learn from each other!

KNOW YOUR LEGISLATOR!
As a charter school it is VERY necessary to know personally who represents your district.  We encourage you all to invite them to your school for lunch and a tour. 
Website to find your legislator: